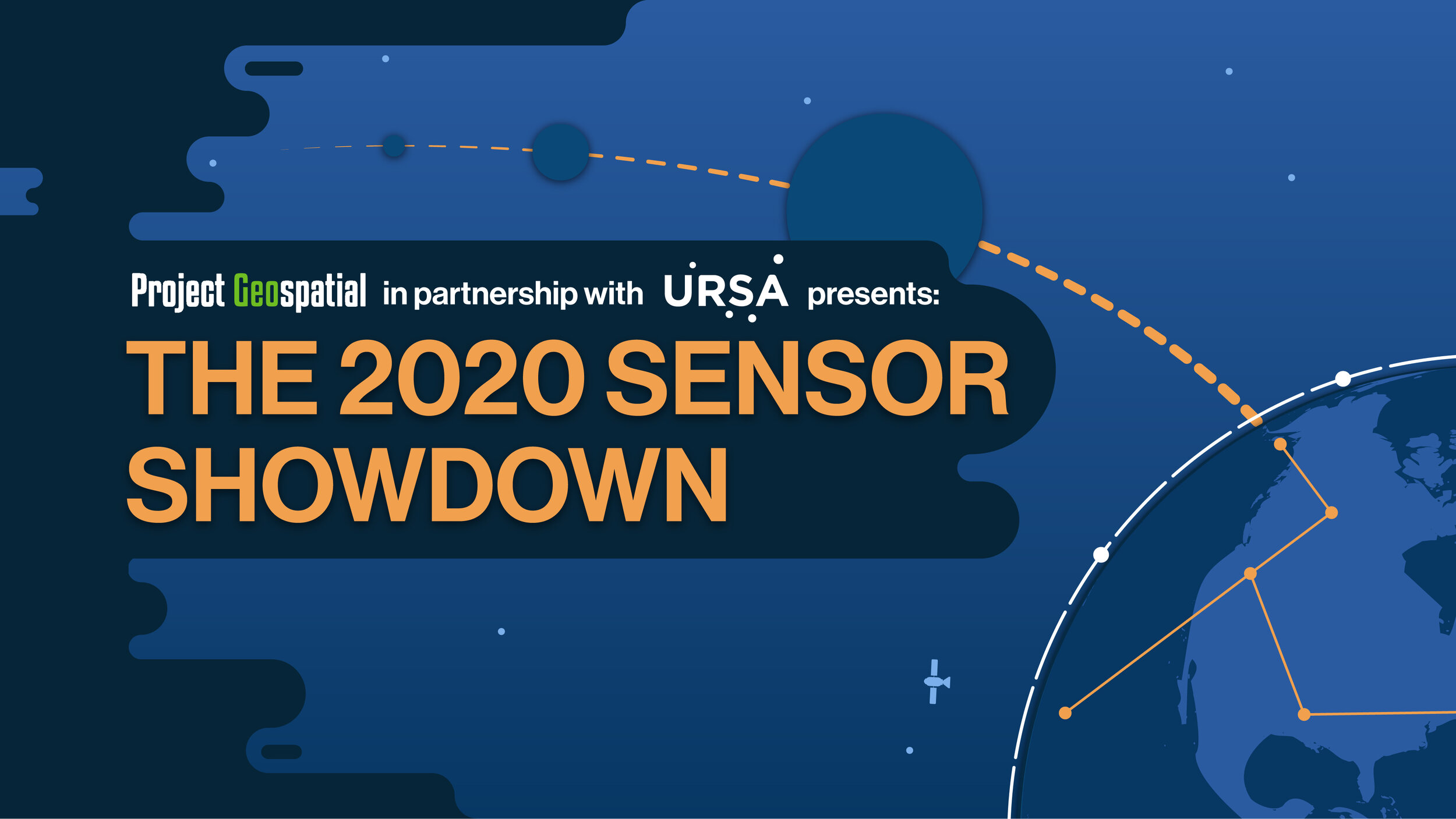 Project Geospatial
and Ursa organized the
2020 Sensor Showdown
, a number of live-streamed panels featuring experts in space, technology, data analytics, and more, as part of the
Geospatial Frontier Virtual Technology Fair
.
In this blog series, we'll cover all the panels, highlighting a few at a time. Keep reading to learn more and click the videos to watch. Enjoy!
How can remote sensing be applied to answer questions about what is happening on the ground?
Listen to experts from leading analytics companies discuss recent use cases and share their thoughts on where the industry is headed.
Introduction to Ursa [3:10], Omnisci [10:25], Orbital Insight [17:00], Indigo [22:50]
Are graphics processing units (GPUs) mostly designed for video or imagery-based processing? Or are those processors typically used for overall scaling operations with large data? [28:40]
Many data collectors are providing some level of their own analytical service. Is the market competitive or complementary through the eyes of an analytics company? Are these providers your partners and/or your competitors? [32:10]
How far along are we in figuring out what machines do well versus humans? How do we assign the right tasks to each? [41:30]
What type of sensors do you think we need to fill the void? What are enduring problems that if I could only have data for this it would answer a significant amount of questions [51:10]
This panel of radar satellite startups share their thoughts on the business case for the small sat industry focused on synthetic aperture radar (SAR).
Is there much of a commercial market? Is it growing? What is the latest on the regulatory landscape?
Introduction to ICEYE  [2:40], Umbra [3:10], Synspective [4:10] and Capella Space [6:10]
Has COVID-19 impacted your plans whether in terms of supply chain, launch schedules or investment? [7:10]
Are you seeing more demand for geospatial data since people aren't traveling? [10:40]
To date, SAR has been a government market. They have been the consumers of SAR. Are those the customers you are targeting? Or are you also seeing commercial opportunities? [14:25]
How big of a piece is education in this marketing effort? [19:55]
What is the launch schedule for Umbra [27:30], Synspective, [28:05] Capella, [29:07] and ICEYE? [30:05]
What are the first markets that Umbra and Capella are targeting? [30:35]
How are new US remote sensing rules impacting your business? [32:35]
What are your data sales models? [36:45]
How important is delivery speed to customers? [43:40]
At present, Capella is focused primarily on high-resolution, narrow-swath data catering to the US government. In the future, is Capella considering low resolution, wide-swath resolution for the commercial sector? [50:25]
Stay tuned for more highlights and visit geospatialfrontier.com/sensorshowdown for more information.