Before Tesla reported second quarter results, the question wasn't so much whether production and sales had fallen, but by how much?
Based on Ursa's SAR activity index, Tesla's Q2  production was forecasted at 83,000 vehicles, nearly exactly what Tesla reported.
This provides our clients with a pulse on Tesla's production ahead of public releases. An analysis shows Ursa's auto manufacturing index for the Fremont facility has 70% correlation with Tesla's quarterly production figures.
Before explaining our methodology, let's back up for a moment and describe some of the challenges facing Tesla and the automotive industry.
Tesla's main factory in Fremont, California was shut for almost two months starting March 23, due to orders from local health officials enforcing coronavirus in the Bay Area.
Tesla factory in Fremont, California
In Shanghai, the Chinese government ordered the Tesla plant to close briefly in late January. A second temporary closure reportedly occurred in early May as a result of parts shortages.
As for demand? The economic downturn and reduced mobility had sapped the strength from global car sales, casting a dour mood across the auto sector.
When Tesla released its quarterly sales & delivery figures, the results beat analyst expectations, lighting a fire under the company's red-hot stock price. Investors welcomed the good news, sending the price of Tesla shares up nearly 10% in early trading.
Ursa Space Systems is monitoring Tesla's factories to provide a pulse on production trends ahead of quarterly releases. 
The Tesla plants are among 60 auto factories that we're currently monitoring in the following countries: Brazil, China, France, Germany, India, Italy, Japan, South Korea, Spain, the United Kingdom and the United States.
The companies we are monitoring include: BMW, Changan, Fiat, Ford, GM, Hyundai, Jaguar Land Rover, Kia, Nissan, PSA, Renault, SAIC-GM, Tesla, Toyota, and Volkswagen.
In this piece, we focus on Tesla, which surpassed Toyota this month to become the world's largest automaker by market value.
Most Tesla vehicles are manufactured in Fremont, California. The first Model S was built at the Bay Area facility in 2012.
Tesla's other manufacturing site opened in Shanghai earlier this year.
Tesla factory in Shanghai, China
Automobile manufacturers often store finished cars in lots adjacent to the factories they were produced.
Using synthetic aperture radar (SAR), we are able to determine the amount of man-made objects in an area, e.g. number of cars, regardless of cloud coverage or weather variability, which can be a problem, especially in China.
Tracking the amount of cars in these lots can indicate production levels, a highly scrutinized topic on Wall Street when it comes to Tesla.
Can Tesla scale up production to match its lofty valuation? In 2019, Tesla produced approximately 360,000 vehicles, versus Toyota's 10 million.
Tesla's 2020 goal is 500,000 vehicles. Until the coronavirus outbreak, hitting that target was a significantly more realistic possibility.
Tesla's production and sales increased sharply in 2018, and continued to push higher in 2019 and 2020, albeit with some setbacks along the way (Figure 1)
Figure 1
In the second quarter of 2020, Tesla produced over 82,272 vehicles and delivered approximately 90,650 vehicles.
Q2 production was 20% less than the first quarter, when Tesla produced 102,672 vehicles. Tesla's deliveries (a proxy for sales) increased by 2% compared with the first quarter, defying major headwinds.
The results beat expectations, pushing Tesla's share price further into the stratosphere.
On July 10, Tesla's stock price closed at $1,544, an all-time high. Tesla shares traded for $430 at the start of the year, an unbelievable 259% rally in little more than six months (Figure 2).
Figure 2
On July 22, Tesla announced earnings, surprising most analysts with a second quarter profit, sending the stock price 5% higher in pre-market trading.
"Demand is not our problem," Elon Musk said on a conference call. The difficulties stem from parts shortages as a result of supply-chain and production issues, he said.
The graphs in Figure 3 plot the SAR activity index, which measures the fullness of Tesla's parking lots contained in the footprint of the Fremont facility.
Results above 1 indicate the lots are more full than on average in this period, while results below 1 indicate lots are less full than on average in this period.
The index rises sharply in Q4 2019 and stays at those higher levels through Q1 2020, before a downturn in Q2 2020. By June, however, the index had rebounded (Figure 3).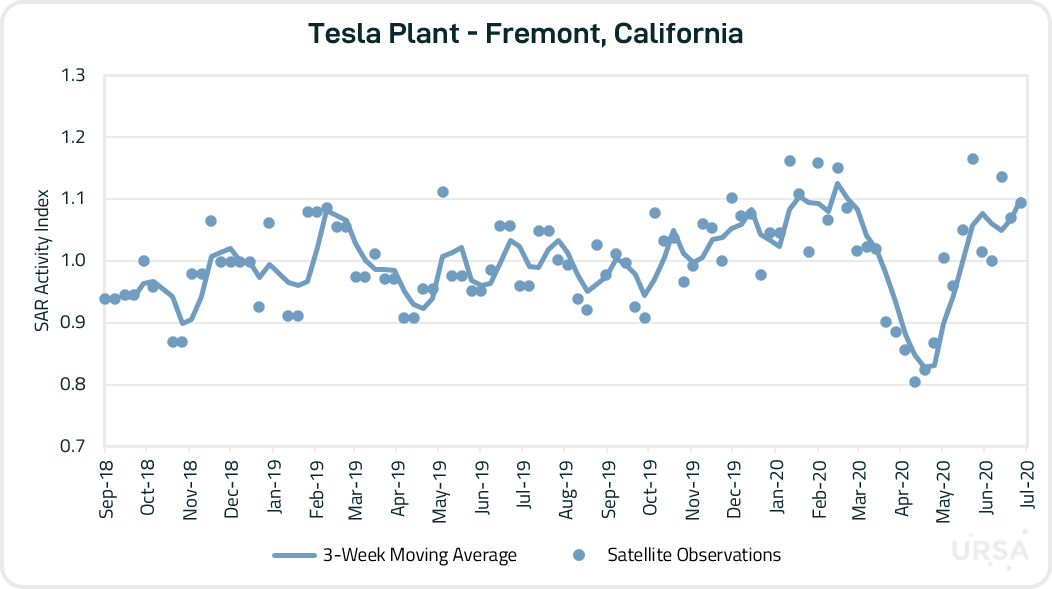 Figure 3
These trends are significant because they mirrored Tesla's production trends in 2019 and the first half of 2020 (Figure 4).
The index averaged three straight quarterly gains through March 2020. Tesla production topped 100,000 vehicles for the first time in Q4 2019 and stayed above that mark in Q1 2020.
The index showed a higher by June, signaling Tesla's ability to reopen after the coronavirus-related closure. If that lasts, then Q3 production will likely show a quarter-on-quarter increase.
Figure 4
Tesla already has a devoted base of followers who track the company religiously.
That pool will grow exponentially if Tesla is added to the S&P 500, which is a strong possibility after four straight quarters of profit made it eligible for inclusion.
Joining the US blue chip stock index would trigger even more interest from analysts and fund managers.
Check back soon for updated information on Tesla's production trends prior to the Q3 earnings release.
You can view this blog and other material on our COVID-19 Dashboard, which is available to the public.
Ursa is continuously monitoring vital locations around the world using satellite imagery to provide a deeper understanding of the impacts of COVID-19.
If there's somewhere you'd like us to take a look, please let us know.