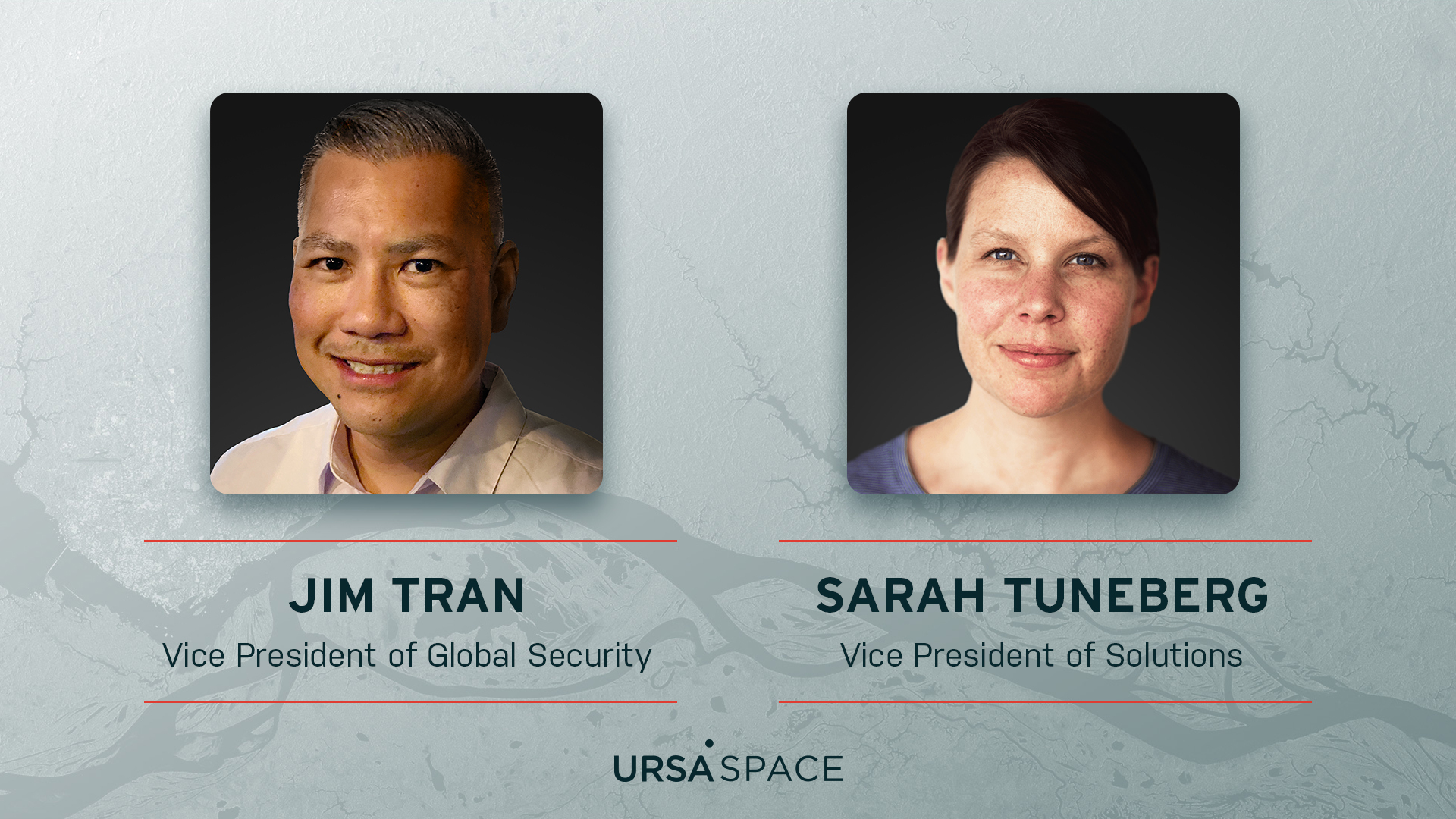 ITHACA, NY — June  28, 2021 — Ursa Space Systems (Ursa Space), a leading radar-as-a-service company, is excited to announce the appointment of Jim Tran as Vice President of Global Security and Sarah Tuneberg as Vice President of Solutions.
Both roles are newly created positions, underlying the significant growth taking place in 2021, as Ursa Space expands its leadership team to deliver more product offerings for commercial and government customers.
"Sarah and Jim have demonstrated the ability to utilize technology to solve complex problems for clients in the public and private sectors," said Nicole Robinson, President of Ursa Space. "Their expertise will be invaluable as we continue to innovate, delivering data analytics leveraging SAR satellites to new and existing customers across a range of market verticals."
Jim Tran is a satellite communications business expert with over 25 years of industry experience. Prior to Ursa Space, Jim was responsible for the global government portfolio in the Americas at SES, one of the world's largest satellite owners and operators. He has led business divisions for global defense contractors, including Harris CapRock and Cobham Defense Systems, and participated in satellite business ventures at COMSAT, Inmarsat Government and TeleCommunication Systems, Inc. Jim's work on creating seamless end-to-end communications capabilities for the defense industry has been featured in various trade publications. He attended the University of Maryland and has completed coursework at Northwestern University's Kellogg School of Management's executive education program.
"One of the reasons I decided to join Ursa Space was the opportunity to apply my passion for finding creative solutions to address customer problems," Jim said. "Ursa is developing cutting-edge tools that will allow us to provide answers to questions that were previously unsolvable."
Sarah Tuneberg is an entrepreneur, technologist and emergency manager who has worked for over 15 years to address complex challenges related to climate change, national security and disaster response. Prior to Ursa Space, Sarah was Co-Founder and CEO of Geospiza where she developed a software platform that analyzed & visualized risk for climate-exposed organizations, enabling decision-making, especially for the most vulnerable. In March 2020, Sarah was tasked by Colorado Governor Jared Polis to lead the state's COVID Innovation Response Team. She was also formerly President of Rock Park, Inc., a consultancy for Federal, state, and municipal agencies. Sarah holds a Bachelor of Social Work from the University of Georgia and a Master's Degree in Public Health from Tulane School of Public Health and Tropical Medicine.
"I look forward to helping Ursa Space unlock technological capabilities to solve an array of issues facing people around the world," Sarah said. "It's exciting to be working in satellite data analytics at a time when the industry is undergoing rapid transformation, pushing the boundaries of what is possible."
About Ursa Space Systems
Ursa Space is a U.S.-based satellite-analytics-as-a-service company that provides business and government decision-makers access to on-demand analytic solutions. Through its radar satellite network and data fusion expertise, Ursa Space detects real-time changes in the physical world to expand transparency. The company's subscription and custom services enable clients to access satellite imagery and analytic results with no geographic, political, or weather-related limitations. Based in Ithaca, NY, Ursa Space was founded in 2014 by leaders in the satellite and software fields with the vision to unlock the potential of data and insights derived from radar satellite imaging.
For more information, visit ursaspace.com.
For announcements, follow Ursa Space Systems on LinkedIn and Twitter @UrsaSpace.
Press Contact
Geoffrey Craig, Ursa Space Systems – info@ursaspace.com